Internships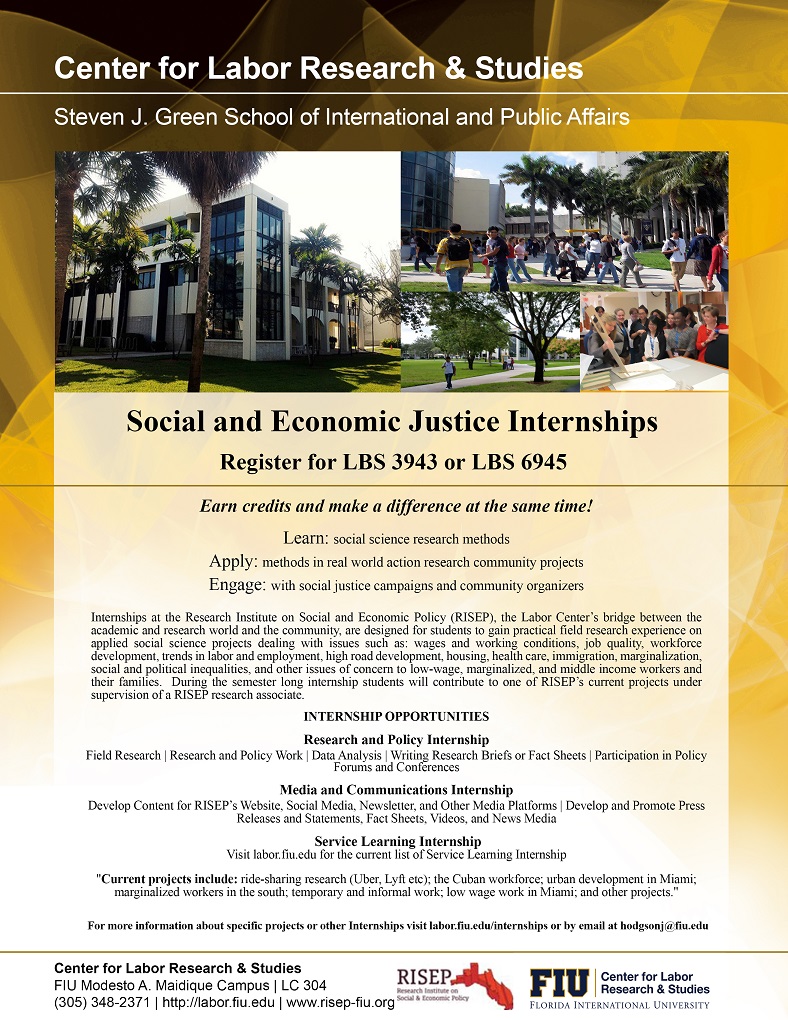 Labor Studies Internships
The Center for Labor Research and Studies trains the next generation of community leaders through the center's Social and Economic Justice Internship Program.
The Labor Center offers two different internship tracks: RESEARCH or SERVICE LEARNING. Each track offers interns the opportunity to explore career options while obtaining hands-on experience. Interns develop applied social science research skills, applied conflict resolutions skills, or applied adult education skills and work with community organizations to build professional networks that enhance not only employability but also qualifications for admission into graduate and professional schools.
"My internship at RISEP has been the best experience of my undergraduate career. I learned many skills and under the guidance of the RISEP research team, I saw myself grow both professionally and personally. I would recommend this internship to anyone who is interested in becoming involved with research in the field of social justice." - Daniela, RISEP Intern
All internships are offered in the Spring, Fall and Summer semesters. The internships consist of 10 hours per week for 3 credits.
Students can enroll to gain Academic Credit for the internships and directed studies at both the undergraduate and graduate levels:
Undergraduates:
LBS 3943 Internship in Labor Studies
LBS 4900 Directed Study in Labor Studies
Graduate Students:
LBS 6906 Directed Individual Study
LBS 6945 Internship in Labor Studies / Alternative Dispute Resolution (ADR)
For more information on the internship programs or the Labor Center's certificate programs please visit our websites at: http://labor.fiu.edu/ and http://risep.fiu.edu/ .You can also email Johanna Hodgson, Internship Coordinator , at hodgsonj@fiu.edu for further information.
Internship Brochure View our internship brochure!