Professional Development
4-DAY COUNTY MEDIATION TRAINING
The Labor Center is excited to offer you the opportunity to complete the 4-day Certified Mediation Training in "County Mediation". An Approved Mediation Trainer will facilitate the training, which will include role-plays of real- life cases to optimize learning.
This 4-day training counts toward the requirements needed to become a Florida Supreme Court Certified Mediator. The other requirement is an educational requirement: High School Diploma or GED (minimum) or proof of a higher degree. For more educational requirements or more , see How to Become a Florida Supreme Court Certified Mediator Step by Step Guide (including amended requirements effective from April 7, 2020 – June 30, 22).
Registration for JUNE 2022 Training Session
4-day Training Capacity: 25 participants
Training Cost: $500.00 for all four days
At the registration site, you will be asked to input your name, email and other information. A Zoom link for the training will be sent to registered persons the week of the training and additional information to join the meeting.
CLICK HERE TO REGISTER OR USE QR CODE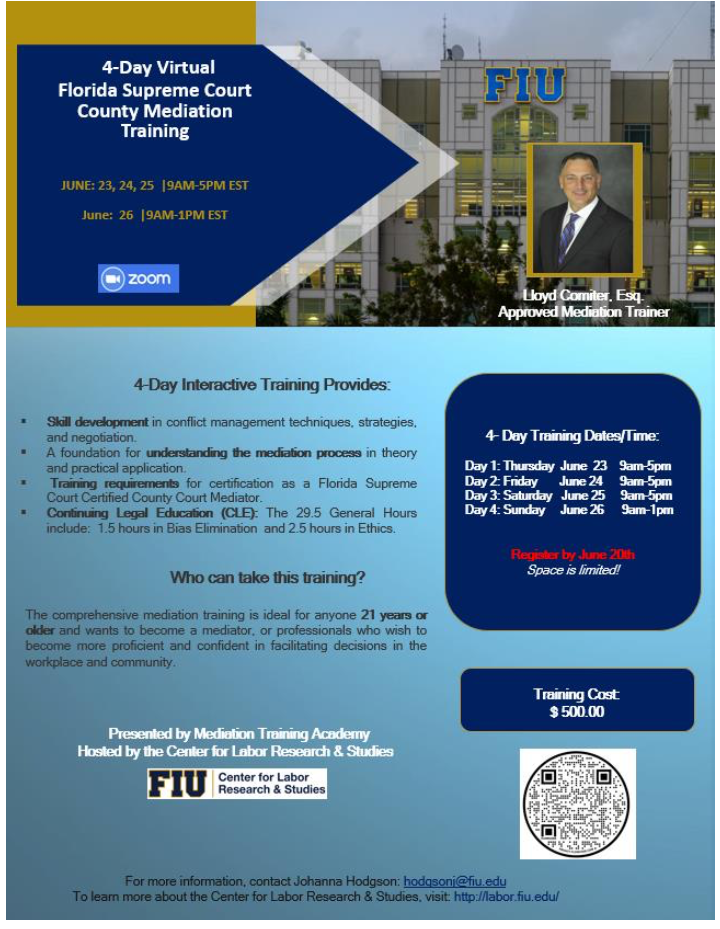 Commonly Asked Questions
Q1: Are mentorship points required for "County" Mediation Certificate?
Mediator Certification Requirements by Rule: Mediator certification is based on a point system that is provided in rules 10.100 and 10.105, Rules for Certified and Court-Appointed Mediators. The required mentorship points for certification under rule 10.100 are suspended for certification applicants who complete training and postmark or email applications to the Center for certification from April 7, 2020, through June 30, 2022. Thus, during that time period , applicants for county certification are not required to obtain 60 mentorship points.
For more information about mentorship points, visit Florida Courts Alternative Dispute Resolution's main webpage under " Breaking News" and other updates.
Q2: For questions about Application Renewal, Continuing Education, Fees, and Points, etc.?
Please review Florida Courts Alternative Dispute Resolution's main page for updated information.